About me
How it all started
I have told this story many times, and it is still true. It was on a morning round in the women's clinic in Lund some time at the end of 1996 that I had the idea of murdering a colleague. Perhaps not someone I worked with. But who knows? Suddenly a crazy idea popped up in my head. What if the night doctor didn't come to the morning meeting? What if he was lying dead somewhere in the hospital? Murdered. The thought that arose that morning stuck in my mind.
I went home and killed a doctor at the computer. And so it continued, and I became the one "who writes about the health service as it really is" – according to people who actually work with health care. It has been great fun and it has helped me to develop. You are forced to look at the world around you when you write.
Read more about me
My latest book
The Affected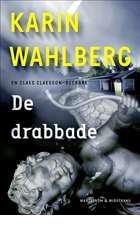 Healthcare strategist Carolina Broms is found dead in an isolated summer cottage outside Dalby in the beech woods of Skåne. A cold-blooded attack. Moreover, she has Fentanyl in her body.
My latest book "The Affected"
See all my books