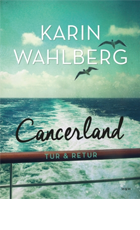 Life as doctor and patient
Suspicions are confirmed – it's cancer.
At the start of 2015 the author and doctor Karin Wahlberg finds out that she has rectal cancer. Her case is investigated for a number of weeks, when life seems to be hanging from a thread, but then she undergoes an operation and is back working again. Now she shares her experience of the illness, with many flashbacks and thoughts about the life that we all hold so dear. In a series of candid reflections she considers both what she herself has been through as a patient, and also crucial phases in life that are of general human relevance, based on her professional role as a doctor. The book also includes the previously published and much appreciated text "Dead Mothers Are Tricky Things", about being a young girl who loses her mother to cancer.
Cancer of the colon and rectum is the third most common form of cancer in Sweden – after prostate and breast cancer – affecting 6,200 people every year. There is a great need to spread information about what is in certain respects a tabooed disease.
The book will be published on 18 August.