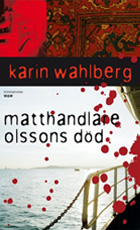 A man is sitting on the deck of a ferry outside Istanbul. He leans towards the railing and enjoys the warm winds. He is a comfortably overweight man in his best years, and he is not prepared to die.
The brutal murder on a Swedish carpet salesman on a business trip to Turkey is the start of a story about an unknown daughter, an exclusive carpet and – as always when Karin Wahlberg writes – about everyday life and dreams the people we meet in the story are faced with .
The Death of Carpet Dealer Olsson is Karin Wahlberg's seventh book about Police Commissioner Claes Claesson and his wife Veronika Lundborg, doctor at Oskarshamn hospital.