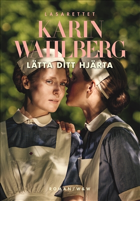 Unburden Your Heart is the third part of Karin Wahlberg's well-loved series of novels about the people in and around the hospital in Ekstad in the 1950s.
Stina Rudström has finally finished her training, and it is with some pride and reverence she enters the General Maternity Hospital in Stockholm to start her first proper job as a midwife. She wants to be a person who can make a difference for other people. She even looks forward to working overtime. Glistening babies' bodies, blood and amniotic fluid, the job feels both tangible and life-affirming.
The town of Ekstad grapples with the eternal problem of a shortage of nurses. Sister Greta, head of the Department of Epidemic Diseases, heaves a sigh of relief when she gets hold of a new nurse for her ward, although she nourishes doubts about Sister Katja's qualifications. Where does she actually come from?
Little Marianne, a second-grader, is worried about her mother Sonja. When Marianne comes home from school she mostly finds her mother lying in the sofa. Sonja gets medicine from the hospital and feels ever so tired. A lady named Nancy comes to help her, and a couple of times the ambulance has come for her.
This book will be published in January 2018